Cemeteries, Monuments, Unique Statuary & Greens
When I started CTMQ, this was something I thought I didn't care about. But then, as the months and years went by, I realized there was a lot of cool stuff in cemeteries – not to mention all the weird and unique statuary and monuments around the state. Finding these things is half the fun.
Also see the Freedom Trail, Amistad Trail, and Middletown Heritage Trail for more cemeteries, if that's your thing.
For our other religious stuff, Go here.
As for the town greens, there are a few here in Connecticut worth writing about for various reasons – some pretty ridiculous, I'll admit.
Cemeteries and Monuments
Old CT State Prison cemetery, Wethersfield
Cedar Hill Cemetery, Hartford
Underground crypt, New Haven
Barkhamsted Lighthouse, Barkhamsted
Barnum and Thumb Graves, Bridgeport
Uncas's Grave, Norwich
Ancient Burying Ground of Hartford
Oldest Legible Grave in US, Palisado Cemetery, Windsor
Hartford Circus Fire Memorial, Hartford
Henry Obookiah's Cenotaph, Cornwall
Fort Shantok Mohegan Burial Grounds, Montville
Giant Tree Grave Marker, Yantic Cemetery, Norwich
Lucas Douglass's Grave, Ashford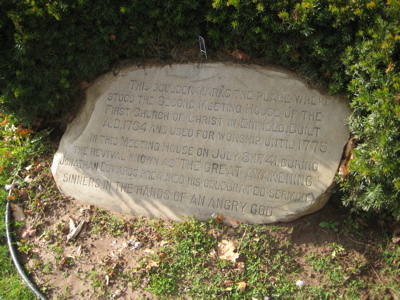 "Sinner in the hands of an Angry God" marker, Enfield
…………………………………………………….
Odd and Unique Statuary & Roadside Monuments and Signs
Benedict Arnold Birthplace, Norwich
Hayfoot, Strawfoot, Hartford
Hunger Strikers Memorial, Hartford
Flood of 1936 Marker, Hartford
Alice Cogswell Statue, Hartford
"Sinner in the hands of an Angry God" marker, Enfield
Crazy John Mason Statue, Windsor
John Brown Birth Site, Torrington
Samuel Colt statue, Hartford
Charles Dow Birthplace, Sterling
PT Barnum Statue, Bethel
Confucius Statue, Hartford
Site of Stephen Douglas Speech, Hartford
Oldest Roadside Memorial in the US (sort of), Ellington
2nd Lt. Core Memorial, Farmington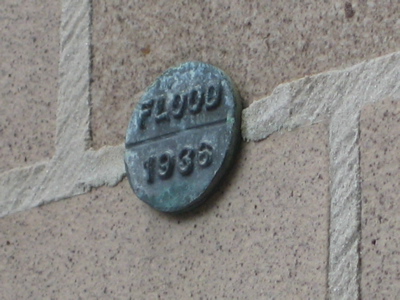 1936 Flood Line markers, Hartford
…………………………………………………….
Town Greens of note
Orange Green
Lyme Green
…………………………………………………….

Outdoor Art
Carl André's 36 Stones, Hartford
Remi Lleshi's The Earth Stone Cairn, Woodbury (not permanent)
New London Whale Tail, New London
Sculpture Mile, Middletown
Sculpture Mile, Madison
WPA Murals, Norwalk
Paper Airplane #2, Putnam
The Stamford Cone, Stamford
Oldest Civil War Monument in US, Kensington
First burial ground with plots, Grove Street Cemetery, New Haven
Simon Lake's Explorer, Milford
John Sedgwick Memorial, Cornwall
Dorrence Atwater Memorial, Plymouth
Eli Terry Water Wheel, Plymouth
Only Eli Terry wooden clock in the world, Plymouth Cong. Church, Plymouth
Overdown Highway Mile Marker, Plymouth
Moses Cleaveland Gravesite, Canterbury (Info)
Minuteman Statue, Westport (near Compo Beach)
Evil Death Bears, Redding (Image)
Shakespeare-on-Stratford, Stratford