Another sort of catch-all section; stuff I've always wanted to do but haven't for a variety of reasons. Some of these are expensive, some risky and some, well… Some are just kind of stupid. As for the sports section, aside from participating in some of the more unique sports around the state, it would be cool to see any college team in action when they are at the top of national rankings.
Tours
Project Oceanography, Long Island Sound
Thimble Islands Tour, Branford
Tour ESPN, Bristol
New Canaan Modern House Tour, New Canaan
Yale Campus Tour, New Haven
Travelers Tower, Hartford
Kayak underneath Hartford, Hartford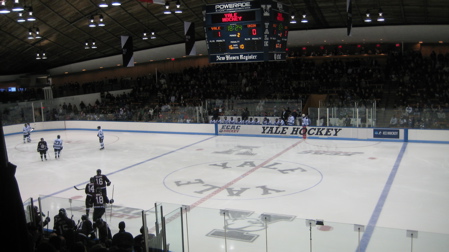 Sports
– Some I do, some I watch
I go Curling! – at the Norfolk Curling Club, Norfolk
A day with Trinity Squash, Hartford
Friends of Vintage Baseball game, Hartford
Yale Hockey when # 1 in the country, New Haven
Whale Bowl!, East Hartford
Welcoming home the champion Huskies, Windsor Locks
UConn Men's Soccer when # 1 in country, Storrs
World's only double-decker NHL Rinks, Shelton (Info)
I go Jai Alai!, Berlin
Lime Rock Park Vintage car race, Salisbury
A day at Skip Barber Racing School, Salisbury
I go Hot Air Ballooning!, anywhere
PGA Golf event at TPC, Cromwell
I go Lawn Bowling!, West Hartford
NASCAR event, Thompson
NASCAR event, Stafford Springs
I go OTBing, Windsor Locks
New Britain Rockcats game, New Britain
Norwich minor league game, Norwich
Connecticut Whale, Hartford
Bridgeport Soundtigers, Bridgeport
The Game, New Haven
Yale Regatta, New London
One Day Events
Ride World's tallest elevator test shaft, Bristol
Loser Day Parade, Essex
Boombox Parade, Willimantic
Greenwich Concours d'Elegance, Greenwich
Visit Oldest Nudist Colony in US, Woodstock
Why?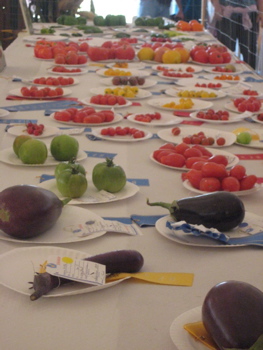 I didn't want to do this, because I don't want to go to anymore town fairs than I have to for museum purposes, but several people said I should because I have a couple funny pictures from a couple fairs. That's right, I don't like town fairs. I don't like fair food and I see no allure in judging vegetables like this picture shows. I find them overpriced, repetitive and slightly embarrassing. I didn't grow up here, so they aren't part of my DNA. I've never been to the Big E. But I do recognize their function as a time-killer when you have kids, so there's that. I'd be far more apt to go to random cultural fairs like the Ukranian Festival I pass in New Britain every summer. So maybe I'll throw some of that in here too.
Now, I don't have many pictures from some of these things, so this is all pretty stupid.
…………………………………………………….
Blue Slope Country Farm Fall Festival, October 2010 (Franklin)
Riverview Farms Fall Festival, October 2010 (Glastonbury)
Berlin Fair, October 2010
Chester Winter Carnivale, February 2011
Hebron Maple Festival, March 2011
North Branford Corn & Potato Festival, August 2011
Guilford Agricultural Fair, September 2011
Celebrate West Hartford, June 2012
Woodstock Fair, September 2012
Christmas Village, Torrington, December 2017