This page used to be three separate pages on the old site. In an effort to combine menus, this one is now rather large. Oh well.
Jump to the Animal Kingdom
Jump to the Plant Kingdom
Jump to Geology
Animal Kingdom (Aquaria, Farms, Wildlife and Zoos)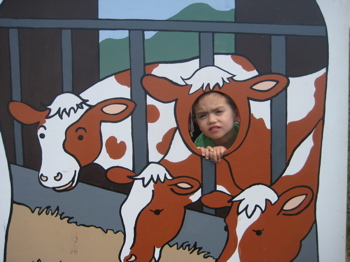 Cool wildlife, unique bird and fish sites, interesting domestic animals and really, just about anything having to do with animals including Connecticut's one zoo, two aquariums as well as a few fish ladders and hatcheries. This is your portal to all things Kingdom Animalia on CTMQ.
Poke around; there is a lot more to this page than you may think. Like the various bald eagle tours and the eel fishway in Baltic. Neon turkeys in Guilford and albino squirrels in Meriden. If you're not at least a little curious now, I don't know who you are anymore.
Jump to
Aquaria, Hatcheries & Ladders, Zoo/Zoolike places
Farms Worth Visiting
Curious Non-Wild Animals
Wildlife in the Wild
…………………………………………………….
Aquaria, Hatcheries, Ladders, Zoo & Zoo-like Places
Don't tell anyone, but we liked Norwalk's aquarium better than Mystic's. And Action Wildlife (Goshen) better than Beardsley Zoo (Bridgeport). Shhhhh… Anyway, these are all classified as museums on this here blog, but .
Aquaria
Mystic Aquarium, Mystic
Maritime Aquarium at Norwalk
Fish Hatcheries, Ladders & Lifts
These places have open houses from time to time, and every year at the end of May there is something called World Fish Migration Day when they are all open. Or at least they were in 2014.
Quinebaug and Burlington Trout Hatcheries, Plainfield and Burlington
Rainbow Dam Fishway, Windsor
West River Fishway, New Haven
Occum Dam eel way, Baltic (Info)
Stanchem Dam Fishway, Berlin
Bunnell's Pond Fishway, Bridgeport (cam!)
Peqauonnock River Apron Fishway, Bridgeport
Leesville Dam Fishway, East Haddam
East Haven Diversion Dam, East Haven
Latimer Brook Fishway, East Lyme
Mianus River fishway, Greenwich (Info)
Greeneville Dam Fish lift, Norwich (Info)
Kinneytown/Tingue Dam Fishway, Naugatuck & Seymour (info)
Mary Steube Fishway, Old Lyme
Rogers Lake Fishway, Old Lyme
Hallville Pond Dam Fishway, Preston (info)
Harry O. Haakonsen Fishway at Wallace Dam, Wallingford (info)
2 Eightmile River fishways, Lyme (Info)
Supply pond fishway, Branford (Info)
Zoo & Zoo-Farm Places
Beardsley Zoo, Bridgeport
Flamig Farm, Simsbury
Action Wildlife, Goshen
Silverman's Animal Farm, Easton
Westmoor Park, West Hartford
Riverview Farms, Glastonbury
Summer Brook Valley Farm Alpacas, Middletown
Ray of Light Farm, East Haddam (Info)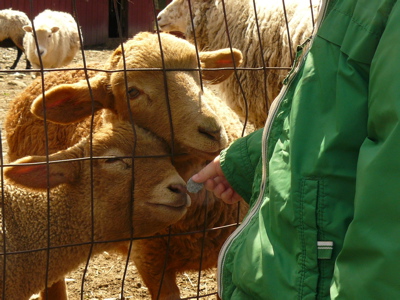 Damian feeding rocks to sheep at Silverman's.

…………………………………………………….
Farms Worth Visiting
This section on the farms and farm-like things around the state has been moved around to different areas of the blog 3 or 4 times now. But I think this is it. I like its new home here.
These joints offer tours or other such ways to spend a fun farm day. I do have a separate page on what I call the Connecticut Cheese Trail which are mostly at farms.
Fish Family Farm, Bolton
UConn Animal Barns, Storrs
Auer 4-H Farm, Bloomfield
Bush Meadow Farm, Union
Rustling Wind Creamery, Falls Village
Beltane Farm, Lebanon
Cushman Farms, Franklin (Farmer's Cow Farm)
Hilltop Farm, Suffield
Graywall Farms, Lebanon (Farmer's Cow Farm)
Mapleleaf Farm, Hebron (Farmer's Cow Farm)
Hytone Farm, Coventry (Farmer's Cow Farm)
Fort Hill Farms, Thompson (Farmer's Cow Farm)
Arethusa Farm, Litchfield
Bakerwoods Farm, Ashford
Foster Family Farm, South Windsor
Bunnell Farm, Litchfield
High Wire Deer and Animal Farm, Woodbury
Five Orange Farms (Info)
Fairvue Farms, Woodstock (Farmer's Cow Farm)
Hurricane Farm, Scotland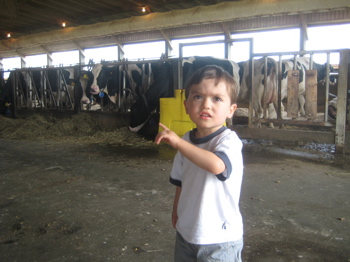 Damian pointing the way at UConn's dairy barns

…………………………………………………….
Curious Non-Wild Animals
I've sort of separated "artificial" wildlife stuff from the more natural in the "Wildlife" section below. Of course, you'll find plenty of stuff about animals at various museums and along various trails. This is the stuff that falls outside of that.
Bears!
Two-headed Goat, Glastonbury
Neon turkeys, Guilford, 11/21/2009
Last Post Cat Retirement Home, Falls Village, 4/3/2010
Fidelco Guide Dogs, Bloomfield
Diving Horses (historic), Niantic

…………………………………………………….
Wildlife in the Wild
Monk Parakeet Invasion, Long Island Sound towns, 6/14/2008
I saw bears in the wild!, Granby, 10/12/2008
I saw a beautiful ring-neck pheasant in the wild!, Windsor
Wild Guinea Fowl!, Colebrook
Ominous Turkey Vultures!, West Hartford
Shepaug Dam Eagle Observation Area, Southbury
Bobcat family at work, Windsor
Great Blue Heron Rookery, Simsbury
Bald Eagle Cruise, Essex
Albino squirrel colony, Middlesex County
See fisher in the woods
See Moose in the woods
See River otters in the woods
See various owls in the woods
See rattlesnake in the woods
See sugar glider in the woods
Magicicada Preserve, Hamden (info)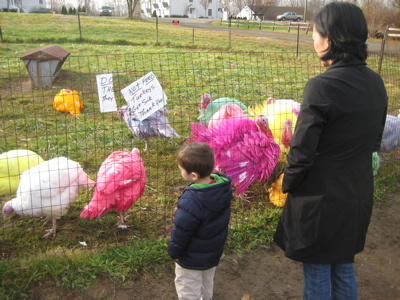 Neon turkeys at Gozzi's in Guilford

…………………………………………………….
Plant Kingdom (Trees, Gardens, Greenhouses, & Other Cool Plants)
I like trees. And gardens. And plants. I'm not sure how many (if any) of the tree walks around the state I'll do, but I will check out some of the cooler and more unique ones (there are a lot more than you think).
Jump to:
Arboretums and Pinetums
Gardens & Greenhouses
Trees
Plants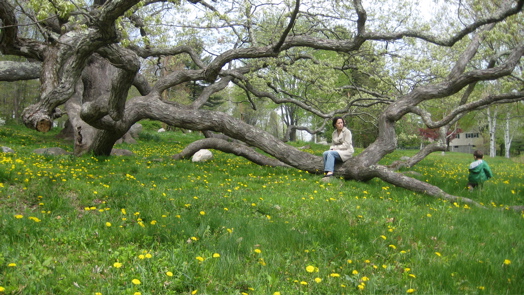 Hoang and Damian at the wondrous Granby Oak
…………………………………………………….
Arboreta and Pinetums
Yes, "arboreta" is as accepted as "arboretums" and I wanted to conserve as much space in the title as possible. Pinetums are evergreen arboretums. We have several scattered around the state – and some of them are historically important. Most of these places offer tours as well. So there you go.
Colonel C.S. Wadsworth Arbortetum, Middltown
Bartlett Arbortetum and Gardens, Stamford
Connecticut College Arboretum, New London
Cos Cob Pinetum (Info)
Dinosaur State Park Pinetum, Rocky Hill
Highstead Arboretum, Redding
New Canaan Nature Center Arboretum, New Canaan
…………………………………………………….
Gardens & Greenhouses
Not just any ol' gardens and greenhouses, but the big ones. The important and historic ones. Heck, someone has even created a collective of Connecticut's Historic Gardens (see below) for me to have another list to work my way through. Almost all of these places I've considered museums or are part of museums. So they'll be some repetition here, but that's okay. You don't care.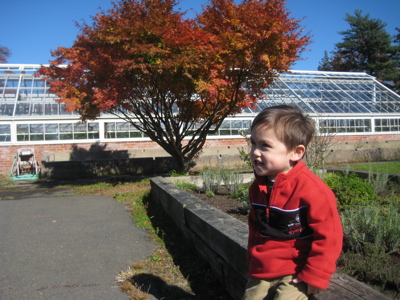 Damian in late October 2009, by the Dahlia gardens and greenhouses at Elizabeth Park
Connecticut's Historic Gardens: This is a collection of 14 gardens around the state, all of which have relatively cool story to boot. Here's the official site –
Here are my reports on my visits. Much cooler than you think.

Other Gardens & Greenhouse Visits:
Elizabeth Park Garden History Tour, Hartford, Many Visits
UConn Greenhouses, Storrs, 2/25/2009
Marsh Gardens and Greenhouses, New Haven, 8/4/2010
The Connecticut Agricultural Experiment Station, Hamden, 8/4/2010
Shoyoan Teien (Japanese Garden) at Wesleyan, Middletown, 5/15/2011
Garden of Ideas, Ridgefield (info)
Maywood Gardens, Bridgewater (info)
Steve Silk's Tropical Garden, Farmington (Info
Sundial gardens, Higganum
Hollister House Garden, Washington (Info)
Greenbrier Greenhouse and Crosby Conservatory at Edgerton Park, New Haven
Some more Connecticut Gardens, most of which I won't be visiting.
…………………………………………………….
Trees
Herein you'll find one of my favorite lists on this entire massive website. We have six National Champion trees here in Connecticut and I will find them all. You'll also find CTMQ's very first page which also happens to be one of the most visited over the years (The Pinchot Sycamore.) I'll also be doing a few of the better Tree Walks around the state. I know there are tons of these things, and I don't plan on doing them all either.
2012 Update: As anyone in northern CT knows, we had a devastating snowstorm on Halloween weekend in 2011. With the leaves still on the trees, and the snow being the heavy/wet variety, tens of thousands of trees snapped – taking down power lines. 830,000 people lost power. We lost ours for 7 days in West Hartford. Worse things have happened to many more people, but know this: it was not fun around here for that week. FEMA was called in and I never would ever have thought I'd see FEMA trucks on my street. Here's a video from some guy which is cool because he captures what it was like outside the night trees started snapping and transformers started blowing up.
But we survived, wholly intact. Many of our historic and champion trees did not. And that bums me out. I'll put updates on the trees' pages as to which were destroyed and which are probably doomed.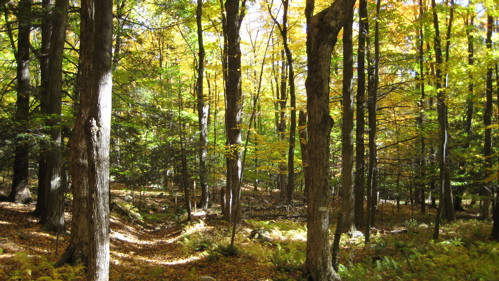 McLean Game Refuge woods in Autumn
I don't know if it's because my last name is Wood, but I have an affinity for trees. And really, you should too.
National Champion Trees of Connecticut – You really (really) should go to my main page about the Champions.
Other Trees
Connecticut's Biggest Tree, The Pinchot Sycamore, Simsbury, 9/8/2006 (The very first page written for CTMQ!)
Connecticut's Coolest Tree, The Granby Oak, Granby, 9/23/2007
Site of The Charter Oak, Connecticut's Most Historic Tree, Hartford
111-Yr-Old (and counting) Lemon Tree, Danielson (Info)
Site of The Washington Oak, Gaylordsville/New Milford
Auncient Oak, Bethlehem (Auncient Oak Drive)
The Ashford Oak, Ashford
First Christmas Tree in the US, Windsor Locks (Info)
Colonial Pine, Colebrook – Info
Bushnell Park Tree Walk, Hartford
Institute of Living Tree Walk, Hartford
UConn Tree Walk, Storrs
Elizabeth Park Tree Walk, West Hartford
Cathedral Pines, Cornwall
…………………………………………………….
Other Plants and rarities
I expect to happen upon a few wacky or interesting plants in my travels. Here they are:
Prickly Pear Cacti , along the Metacomet Trail, Plainville
Pond Meadow Natural Area (Cranberry Bog), Killingworth (Info)

…………………………………………………….
Geology
That's right. Rocks. Artistic, historic, or otherwise interesting. You'd be amazed at how much one can write about rocks. I'll probably add a bit more from a geologic perspective to this section over time, as there are a few cool formations around the state.
Jump to:
Painted Rocks, Named Rocks & Rock Formations
Historic Rocks
Cool Geology
Caves, Dens & "Caves"
…………………………………………………….
Painted Rocks, Named Rocks & Rock Formations
Frog Rock, Eastford, 2/2/2008
Turtle Rock, Marlborough, 2/2/2008
Elephant Rock, West Simsbury, 6/22/2008
Carl Andre's Stone Field Sculpture, Hartford, Many visits
Link to Bear Rock, Durham (Scroll halfway down hike story)
Frog Rock, Cornwall Bridge, 11/29/2009
Snoopy Rock I, Preston, 8/7/2010
Snoopy Rock II, Preston, 10/5/2013
Indian Chair & Table Rock, Pomfret, 4/17/2011
Eagle Rock, Hebron, 4/24/2011
Sparky the Dog Rock, Montville, 5/28/2011
Al E. Gator, Glastonbury, 4/1/2012
Bethel Snake(?) Rock, Bethel, 6/22/2012
Dog, Bear, Dog painted rocks, Winchester, 9/29/2012
Drum Rock, Canton, 4/21/2013
The Brethren, Hamden, 5/5/2013
Ladies Room Rock, Ashford, 2/5/2017
Indian Rock, Oxford 3/31/2018
Boy Rock, Indian Head, Great Stone Face, Plainville, July 2018
Shark Rock, Madison (Route 80)
Dog Rock, Danbury (across from town park)
Indian Head Rock, on the Housatonic in Shelton
Molly Fisher Rock, Kent
The Pinnacle, New Preston
Stone Table, North Cornwall
Largest boulder, Cochegan Rock, Uncasville
Largest "free-standing" boulder in S. New England, Shopboard Rock, Higganum (Info)
Bible Rock, Higganum (Info)
Pulpit/Flag/Lorenzo Dow's Rock, Higganum (Info)
Crying Child Rock, Salisbury
Eliot and Pulpit Rocks, Woodstock
Prophet's Rock, Hebron

…………………………………………………….
Historic Rocks
Selectman's Stones, 9/1/2008
Hospital Rock, Farmington, 4/27/2009
The Yale Boulder, Old Saybrook, 5/18/2011
Orenaug Park Pillars. Woodbury, 1/7/2012
The Little Stone House, Storrs, 5/30/2014
Settlers Rock, Ridgefield, August 2017
Joshua's Rock, Madison (Info)
…………………………………………………….
Cool Geology
Wilsonville Fault, Thompson
Matianuck Sand Dunes, Windsor
Pillow Basalt formation, Meriden
The Great Uncomformity, Southington (Info)

…………………………………………………….
Caves, Dens & "Caves"
Connecticut has an embarrassing habit of naming caves that are not really caves. By my reckoning, there are only a couple real caves in Connecticut – and they are tiny to say the least. The Central Connecticut Grotto states there is only one "real" cave – Tory Cave in New Milford. But hey, I don't make the rules; I just copy the lists and visit them. Actually, many of these places have cool histories that make them interesting.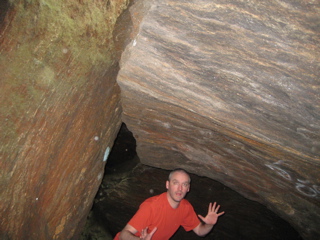 One of Leatherman's Caves in Watertown
My online cave resource seems to have disappeared in 2014. Darnit.
Indian Council Caves, Barkhamsted
Phillips Cave, Bethel
Squaw Cave, Bolton
Tory Den, Burlington
Bakers Cave, East Lyme
Will Warren's Den, Farmington
Rachel's Hut, Franklin
Judges Cave, New Haven
Wolf Den, Pomfret
Link to Coginchaug Cave (cave at bottom)
Devil's Dens in Sterling and Plainfield
(One of) Leatherman's Cave v.Crane's Lookout, Watertown
Leatherman's Cave v.Park Road, Watertown
The Legend of Colebrook Cave, Colebrook
Gamaliel's Den, Roxbury
The Danbury Chamber, Danbury
Pahke's (aka Wright's) Cave, Hartland
King Phillip's Cave, Simsbury
…………………………………………………….